Francheska Anne....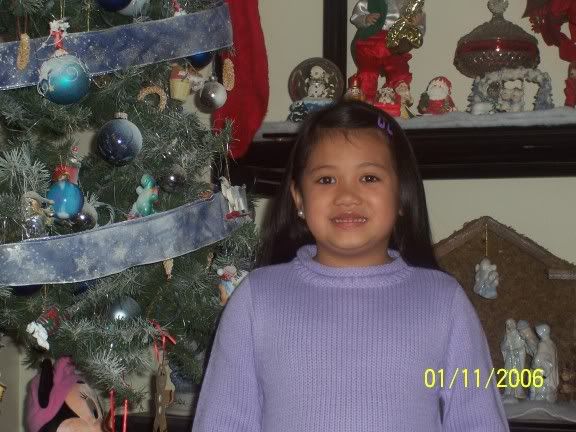 She is my




My daughter is one american budang kikay and actually we call her "Kikay". She is like a lady trapped in a 7 year old girl. She loves pink, purple, blue and lately she is digging the cheetah animal prints. She loves to watch Highschool Musical, Britney Spears Videos, Rhianna, Mariah Carey to name a few. She is one color coordinated girl. From the color of her clip right down to her socks, bag and shoes or her sandals and everything has to coordinate with what she is wearing. When going out she never fails not to bring her purse with her. She loves bubble baths, hello kitty, talking on the phone, going to nail salon, going to this supposedly grown up stores. She takes a long shower and takes too much time in getting dressed. But she will also greets you with a smile and a big warm hug. She appreciates family time too much and her ideal nap takes at least 2 hours. She is one bookworm and loves to help in everything... from baking, washing the dishes, laundry, carrying the groceries, taking care of her cousin -- Joshua and helping around the house.

That's why I am so proud of her. She might be hardheaded sometimes but she never fails to admit when she is wrong and say sorry if she is ready. She might sometimes be stubborn and shy but do not be fool by her being so sweet and cuddly. For you might get in trouble and never asked her want she wants for she will accept anything you give her. She can be choosy about certain things but she is not a high maintenance kind of a girl. She loves knicknacks, stuffed animals, jewelries, bags and shoes/sandals. She is talkative as a talking parrot and she snores.

She loves talking, eating, chatting (Oh Yes she does chat with her Lola Inday and sometimes with her cousin Dominic.),drawing, coloring, reading, surfing the web and going online,hanging out at Starbuck's, shopping and entertaining visitors and relatives. She is trying her very best to excel in school and in everything she does but she knows that nobody is perfect and she is not perfect as well. If she knows that it's not her mistake, watch out for she will argue with you with all of her might too defend herself and let the truth come out. She acts like boy, in a girls body and sometimes can be rough.

Thankful for she is so adorable and brings happiness to the family. I love you, Kikay na Kurdapya.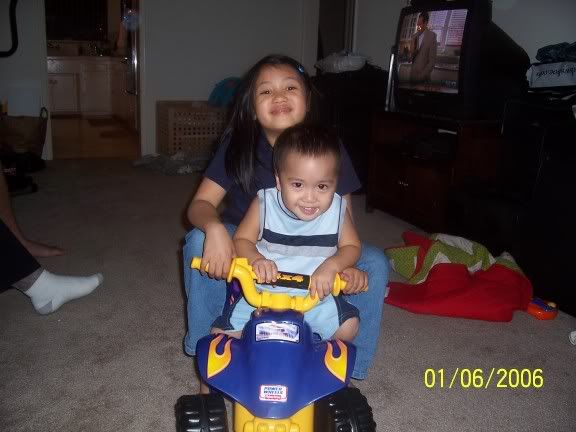 May I add that she knows 2 tagalog songs. Bebot by BlackEyed Peas and Sasakyan Kita by Gladys and The Boxers. Yun nga lang tagalog with american accent... hehehehe
Posted By:

CarmelaSolon

@ 1:20 PM