Inno Francis .....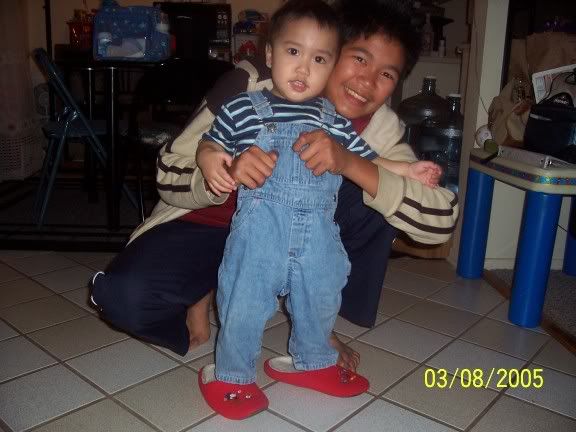 Seems like yesterday when I gave birth to you seeing you for the first time brought tears and happiness in my life. Seems like yesterday that I was just carrying you and changing your diapers. Seems like yesterday when you first started too walk, talked and look at you now all grown up and already a young man. Your accomplishments and failures made you of who you are today. May you continue to strive more and do good. You make me a

in every little and big ways you do. Thank you so much for understanding me and for being a good son.


My Kikoy, everybody's playmate and mommy's best helper. Trying his best in school and loves to play with his legos, cars, Pokemon cards and action figures. Loves basketball, football, soccer and wrestling. He loves rice, chicken and fish. He doesn't want to show his feelings to others. He easily gets along with anybody. He is such a people person. He likes the finier things in life. He is one typical male that hates to read books, hates to clean up and his typical shower lasts more or less in 10 minutes including getting dressed.

He loves playing online games, loves playing with PS games, Gamecube, Xbox, loves chatting with his Uncle, Lola Inday and cousins. He loves staying inside his room and gets easily scared watching any horror movies. When watching horror movies he usually covers his ears and his eyes and takes a peek every once in awhile. He can sometimes be so hardheaded but still family members says is still a good boy. He is already a teenager but still acts like a baby and for that I am so thankful. He doesn't like being tease to the opposite gender. He gets offended and blushes when his crush's name is being mention.

He misses Philippines and wants to visit one of these days. He loves Bantayan Islands, Moalboal, Plantation Bay and Shangrila. He loves biking, skateboarding, playing hide and seek, hip hop dancing, watching movies, goofing around and lately wants to learn how to dance ballroom. He can sometimes be hardheaded but he will listen to you no matter what. He doesn't answer back but he will give you a ton of excuses for his actions. He easily patronized someone or something and always falls for the bad ones.

He is shy at first but when the ice is broken, it would be impossible for him to leave. He is the first grandchild and nephew of my side. He is so loved by his Godmothers and Godfathers. He is and was spoiled by them. When he was still small you will see him with his Mommy Christine at the mall buying him all this stuff. He is famous and well known at his school in Philippines. Teachers adore and love him because he is so helpful, talkative and polite. Sometimes shy and hates to admit that he wants to sleep beside us.
Kasi feeling nya malaki na daw sya. Pero wala lang gihapoy buot.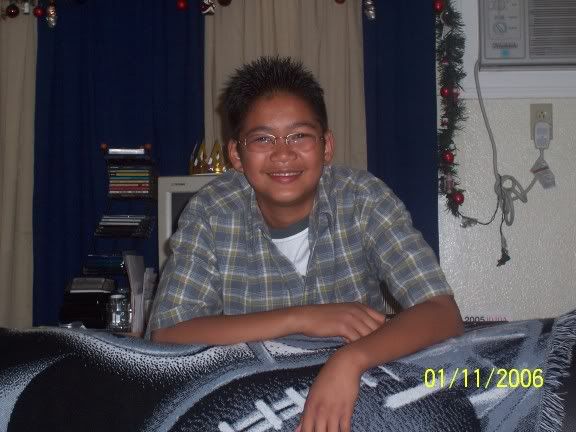 My Dodong Kikoy. I am so proud of you of how you have become. Keep up with the good work and continue to do good. I love you!

Posted By:

CarmelaSolon

@ 1:38 PM